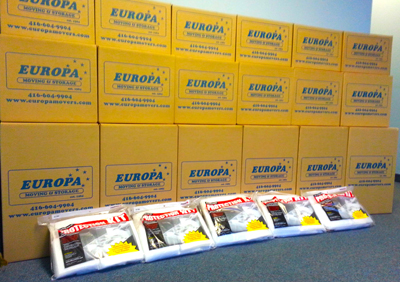 If you are like millions of people in the world who don't have enough time in the day to do everything they need to do, like packing and preparing moving boxes, it is pretty fair to say that planning to do your own packing is a lost cause. Or you may just want the professionals to take care of packing, ensuring everything is packed and prepped as safely as possible. As a full service moving company, Europa Moving & Storage Toronto can help ease the workload and stress by providing partial or full packing services for your move.
Packing Services in Toronto
Partial Packing mainly takes care of the fine china, kitchen wares, and fragile items
Full Packing takes care of packing the entire home from top to bottom
Packing supplies will be charged according to the items used and can be added to the final invoice so no upfront costs necessary
Items packed by our professional movers will be covered under the basic coverage
This service is typically provided a day or two prior to the moving date
Need Cleaners? We have those too!
Contact us today for information about packing services in Toronto!