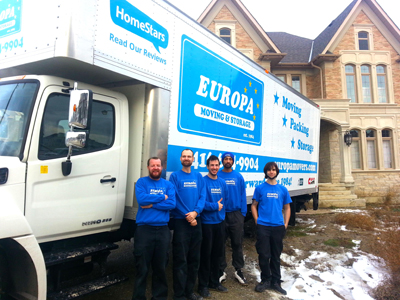 LOOK WHO'S HAPPY!
"I booked Europa after I heard great things from a friend on facebook. They arrived early which was fantastic and were very professional and friendly. I booked 2 guys and everyone was really friendly and eager to help me out.
Can't say enough positive things about them. Got the job done quickly and took a lot of the stress of moving out of the equation…exactly what I was looking for!!
Thanks so much!!"
Derek Mizell, Toronto, Ontario
"Our move was made so much easier by the professional and efficient manner from the guys at Europa Moving & Storage . From the first phone call I was impressed by the customer service team's knowledge and service attitude. The team was on time, polite, and very helpful with small problems like fixing wobbly legs on very old dressers. They were patient with us and respectful of our belongings. I would not hesitate to recommend them to friends and will look to call them again should we have another move. Thanks guys."
Markus Spada, Toronto, Ontario
"Hands down, the easiest move I've ever experienced! It was my first long distance move from Toronto to Sarnia. My movers were just amazing. Not only did they have a better grasp of spatial reasoning and organization than I did, but they seemed to genuinely care about the outcome of my move. I've never met movers who were more methodical, detail oriented, or thorough. They even grabbed things I forgot to pack! Definitely a moving win."
Lacie Folse, Sarnia, Ontario
"We used Europa Moving & Storage for our residential move (2-bedroom-apartment) within Toronto this year, and it was simply the smoothest experience ever. We had done most of the boxing and prep work ourselves, based on the advice given to us in advance by our movers, which helped a lot and saved us some money as well.
The move itself was fast and uncomplicated. The team was nice, professional and a pleasure to deal with."
Elsie Medlen, Etobicoke, Ontario
"I have just moved with Europa Movers! The main reason of using Europa Movers was their detailed moving quote, thorough explanation of the rates over the phone, plus the movers. The guys worked efficiently during the whole moving process. They loaded quickly my 2 bedrooms house from Etobicoke to Scarborough.
The moving process took 6 hours, just like it says in the moving quote. The price was more than reasonable and affordable. Feels good when you deal with professionals. I was truly satisfied with my movers."
Alicia Mehring, Scarborough, Ontario
"Europa Toronto Moving handled the entire job from beginning to end without a hitch. Even our very expensive piano was moved without a scratch. Amazing work."
Ben and Marie, Toronto, Ontario
"Thank you so much Europa for such a smooth moving transition. You guys made it happen so easily. This is the first time moving in Toronto wasn't a big headache. Even the rain stopped pouring down the minute your moving trucks pulled into my driveway. I think God is looking out for you. Love you guys! Thank you!"
Alexandra, Oakville, Ontario
"Europa was very good to deal with. They returned our initial phone call right away and set up an appointment with us the next day to review our home & contents for providing an accurate quote. We were charged the rate that was quoted which was very fair. There were no surprise charges. On moving day, the crew arrived early, was very efficient and also pleasant to deal with. Overall, their service was excellent with prompt follow up on all items and we would recommend them to anyone."
Pamela Mahal from Toronto
"Customer service beyond expectations. It's easy enough to state the obvious things you expect from your movers, that they be professional, on time etc. The stand-outs for me were the attention to wrapping furniture, cushions, and mirrors, that they were personable and took great care. I had a bit of a challenging move, it took three attempts to successfully deliver my sofa due to the configuration of my new place. Each time they arrived at my door they were equally as pleasant and I honestly think as happy as I was when in the end we figured out a way to make it work! I've never felt compelled to write a review before; these guys are exceptional at what they do."
Shayna from Toronto
"Communication with Ray on the phone and by email was excellent. He helped us work out the details of our move both to storage and to our new house. The movers were a team of earnest, strong and pleasant guys. They were punctual, worked steadily, disassembled and reassembled items without direction and stored items appropriately. All in all they were very competent and we were pleased with the service."
Diane from Toronto
"Being a sceptic after a harrowing experience with NA Van Lines (2000) I researched this company thoroughly and BOY! was I ever glad I did. We were moved from Ontario to Nova Scotia with NO HIDDEN FEES and not one single break, every item accounted for, Thank God for the peace of mind these guys gave us and FAIR PRICES! Use them with confidence folks."
Scott Reid from Nova Scotia
If you would like to add to our reviews – click here.